Reaching the Rancocas Valley and Beyond.
LATIN AMERICA / CARIBBEAN
MALAYSIA
NIGERIA
North Carolina, USA
Nicaragua
LATIN AMERICA / CARIBBEAN
Young Life Latin America and Caribbean (LAC)
In 2008 Danny & Ann left FPCMH and dedicated their lives to mission ministry. From their home base in NC, they serve with Young Life in 27 countries in LAC providing senior leadership development, discipleship, and operations/capital campaigns. Ann leads the LAC Committee which is composed of LAC senior leadership and Action teams for each country (adults who pray, encourage, and support YL area leaders/clubs), and organizes YL expeditions in an effort to recruit adult friends of YL and financial donors. Ann runs point on biannual senior leadership meetings, the Global Leaders Conference for the top 100 YL leaders in the world, and the Action Team/LAC Senior Leadership annual meetings both in the LAC and North America, gathering friends and leaders together to support the ministry.
Danny supervises 5 divisional leaders & is the liaison between 5 Latin American camps ; the US camping dept, as well as serving on the board of 41& Change Coffee and its production in Nicaragua. He introduced the term "subsidiarity", and it is becoming the inner working of YL International – pushing authority from the top down to the lowest level. With this comes a Global Financial and Human Resources cloud-based system which is coming online in the local YL ministries. Danny has developed a policy regarding kidnapping in the countries of Haiti, Cuba and Venezuela. The Master Plan Case is being prepared with the vision for YL Camp Rapadou in Haiti. Danny reminds us that YL was founded in the midst of WWII, in Nicaragua in the midst of their civil war, and now the YL ministry in Haiti is thriving in the midst of chaos. The YL camp Pico Escondido in the Dominican Republic is complete. He is also working on development of a new camp in Costa Rica.
Please pray for: YL leader and camper safety in all LAC countries; Wisdom about how to build a camp in a country as tumultuous as Haiti; Final preparation and roll out of the "All Hands on Deck" implementation of the Workday Enterprise management cloud solution throughout LAC; for Ann as she leads the Division to develop Action teams in every country and plans the YL I100 Global gathering in Anaheim, CA in January 2024;  Growth in leader trees – their roots showing who mentors and supports them, and their branches showing who they are mentoring and growing as disciples; for safety and good health as they travel; for their 4 adult
children and grandchildren
For more information: dsharpe@sc.younglife.org annmsharpe@gmail.comMore Info:https://latinamerica.younglife.org/about/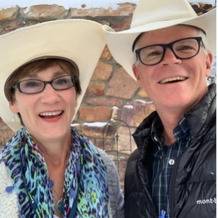 MALAYSIA
NIGERIA
North Carolina, USA
Nicaragua
Central/South Jersey
Rancocas Valley
Burlington County
Central/South Jersey
Christine and Christopher Loesser – InterVarsity Central and Southern New Jersey
Area Ministry Director and Emerging Development Manager – Alumni
God is transforming the lives of students across New York and New Jersey! And yet tragically, too man campuses have little-to-no gospel witness. God has given us vision to deepen current ministry and plant new college ministries!  Through special campus events, prayer, small groups, camp; one-on-one relationship building, they share the love and truth of the Gospel with students and faculty. During this past academic year, the ministry grew to 10 chapters with 422 students involved including 43 small groups and 61 faith decisions! Christine leads staff missionaries and directs the planting of brand-new college ministries across Central/South New Jersey. Chris develops ministry partnerships in Central/South New Jersey and develops new strategies for InterVarsity to engage alumni in mission to campuses. They aim to see college seniors transition well, flourish where they land, and continue to partner effectively with InterVarsity's mission.
Please pray for: New Student Outreach (NSO); opportunities to share; students to be open; leaders to love boldly; The ministry on the campus of Rowan College at Burlington County (RCBC); alumni to join in leadership on campus; their four children to flourish as they grow.
For personal ministry updates, email: chris.loesser@intervarsity.org to subscribe.
More Info: www.GivetoIV.org/Loesser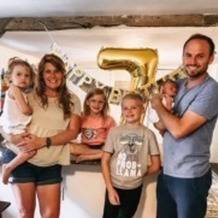 Rancocas Valley
Burlington County